Check out the Fall Camp Schedule for Freshmen here.
read more
Check out the schedule for Fall Football Camp on Calendar page.
read more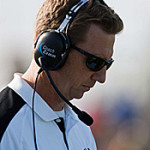 Welcome to Sea King Football.  We feel our program is both challenging and rewarding, as we strive to do our best on and off the field.  Our program has participated in 3 CIF Championships since 2012, earning 2 Titles. Last year we competed in one of the toughest schedules in school history, making it to the quarter-finals of Division 3.  Our Lower Levels continued their success (League Champs), while learning the fundamentals of Sea King Football.  Please know that in order to participate in Freshmen Football, experience is helpful, but certainly NOT necessary.  We invite all incoming 9th graders who want to learn the game, work hard, and have a positive TEAM experience.
We thank our Seniors for continuing the legacy of hard work and dedication to Sea King Football, and look forward to their visits-as we do all Sea King Alumni.
Our 2017 Schedule consists of very strong Teams, including a State Champion and a State Runner-up, as well as the always strong Bay League.
Summer Football begins Monday June 12th and runs through Friday July 14th.
Sign up for Summer Football through The Hill Athletic Alliance at www.thehillathleticalliance.com.
We are excited and looking forward to being the best that we can be.
Palos Verdes Football 2017…What it Takes!
Guy Gardner, 
Head Coach, Palos Verdes High School Football
Follow Us on Facebook
---
Palos Verdes Sea King Football
Thursday, December 7th, 2017 at 7:47pm