Corona Del Mar vs. PV Sea Kings August 26, 2016 at 3:00 p.m. Come support our Sea Kings in their opening game of the season.
read more
1) LIFT, RUN, EAT A GOOD DIET, RUN, HYDRATE, and RUN. You should devise a Running regimen that gets you in shape PRIOR to August 8th. This will a) Help strengthen your TEAM b) Get YOU in shape c) Decrease the chances of injury d) Increase the chances of getting- and...
read more
Follow Us on Facebook
---
Palos Verdes Sea King Football
Sunday, August 28th, 2016 at 2:44am
CdM's passing attack slowed
PALOS VERDES ESTATES — Fifty minutes before Corona del Mar High kicked off the season on Friday, Coach Dan O'Shea and the rest of his football team looked up to the sky. They couldn't help themselves, nor could the home team, which is also the Sea Kings.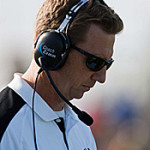 Welcome to Sea King Football. We feel our program is both challenging and rewarding, as we strive to do our best on and off the field. After battling to 3 CIF Final appearances in the last 4 years, earning 2 Championships, we are even more motivated as we head towards the 2016 Season. We thank our Seniors for continuing the legacy of hard work and dedication to Sea King Football, and look forward to their visits-as we do all Sea King Alumni. Our Lower Levels continued their success in 2015, including an undefeated JV season, competing against a challenging schedule, while learning the fundamentals of Sea King Football. Please know that in order to participate in Freshmen Football, experience is helpful, but certainly NOT necessary. We invite ALL incoming 9th graders who want to learn the game, work hard, and have a positive Team experience. Palos Verdes Football 2016…FINISH!
Guy Gardner, 
Head Coach, Palos Verdes High School Football