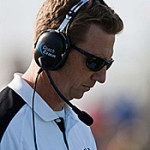 Welcome to Sea King Football.  We feel our program is both challenging and rewarding, as we strive to do our best on and off the field.  Our program has participated in 3 CIF Championships since 2012, earing 2 Titles.  Last year our Varsity Team battled through another challenging schedule on our way to earning a Bay League Championship (5-0). We thank our Seniors for continuing the legacy of hard work and dedication to Sea King Football, will cherish the memories made, and look forward to their visits-as we do all Sea King Alumni.
Our Lower Levels continued their success (JV Undefeated League Champs) while learning the fundamentals of Sea King Football.  Please know that in order to participate in Freshmen Football, experience is helpful, but certainly NOT necessary.  We invite all incoming 9th graders who want to learn the game, work hard, and have a positive TEAM experience.
Our 2018 Schedule consists of very strong Teams, including last year's State Champs Narbonne High School, former State Champs Corona del Mar High School, and the always strong Bay League.
We are excited and looking forward to being the best that we can be.
Palos Verdes Football 2018…US is More!
Go Sea Kings!
Sincerely,
Guy Gardner, Head Coach
Follow Us on Facebook
---
Palos Verdes Sea King Football
12/31/2018 at 4:51pm
Palos Verdes Sea King Football
11/23/2018 at 3:25pm